How The Braces Got Their First Record Deal
"What's up with the band?" At times (in the late 1980s) I got wary of the same old question when meeting people around my hometown Krefeld. On the tram, at the chips shop or "At The Watch", the hangout for the local subcultures and bottle collectors: Whenever I bumped into someone I knew, the question came up sooner or later.
He or she would ask: "What's up with the band?" And I would think: "Oh no, not again."
What was the problem? Well, not much was happening most of time. Therefore an honest answer would have been "Not sure, but I think about buying some new strings for my guitar" or "Yesterday we tried a new song, but it was crap" or "Last Friday we rehearsed for 30 minutes, then went on to play darts for 3 hours."
Of course, these would all have been let-downs. Which means, as an entertainer it was no less than my duty to make things up. Whether they were glamorous gigs in distant places or famous people praising our demo tape.
Yet, there was also a time in early 1988 when I was more than willing to answer the question, "What's up with the band?"

It was the day we were contacted by an English record company (and probably the weeks and months after that). At the time meet-ups with friends went more like: They would ask: "What's up with th.." And I would say: "Don't tell anyone, but a label from England is on our back."
And it was so true. I could, and often did, prove it with the letter I have scanned here. A guy called Mark from Link Records asked if we were interested in being part of a Ska compilation. It would become the first Ska compilation to come out of Europe after the glorious days of 2 Tone. The compilation that was going to be released under the name "Skank – Licensed To Ska".
"Hold on Mark, The Braces joining Buster Bloodvessel from the Bad Manners and The Toasters from New York on this project? Do you really think this is a good career move? Let me think for just a millisecond."

When I scanned the letter yesterday I realised the creases on it again – from being folded and carried around in the back pockets of my trousers for quite some time. Just in case someone might ask me about the band.
And that wasn't the only time I showed it to people. Especially when musician friends were around the letter was used frequently. I would say: "Hey …, good to meet you. Guess what happened. We just received a letter from some music industry guy. Don't know what to make of it. What would you say?"
The beauty of it all was not to tell any details before letting them read it, and then watch for their reactions while they went through the letter. Many were happy for us and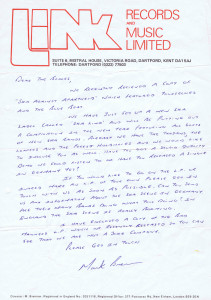 enthusiastic. But whenever I detected envy, I liked it even more.
How in the world did Mark from Link Records get hold of us, in 1988 before the days of the Internet, email, myspace, twitter etc.? The organisers of a Ska festival in Hannover and a clothes store off Carnaby St. play central roles in the next episode featured on this blog, which will be named "The 7-Step Program To Becoming Part Of A Legendary Ska Compilation".