My First Time: What It Was Like To Be In The Studio With The Braces In 1987
Ska music today seems to be all about sound. Even new bands know exactly what effects they want and which equipment to use. They plug their Telecasters into their Twin Reverbs, hook up their Jazz Basses and make no mistakes. Producers like Vic Ruggiero and Victor Rice offer their services globally and set standards in rumbling elegance. Skip back 25 years and you get a different picture.
Equipment List
I found a sheet of paper the other day. Couldn't help smiling. It was from the year 1987 and contained a list of audio equipment that was used at the studio where my first band The Braces held its first recording session. It was designed to impress. Today every recording software for 20€ offers more.
Flashback
The memories of our first time in a recording studio kept coming back. Little pieces of dialogue, visions of sweat, fear and the feeling of not knowing where to go (but being sure to be far off). What strikes me most today is the complete naivety we had when it came to SOUND. Basically, we had no idea about anything.
Enter Recording Studio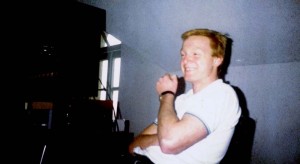 There we were in Bochum-Wattenscheid in the control room facing a recording booth. No idea who had guided us to exactly that place. And what were we supposed to tell Pete, the recording engineer: "Hi, we are The Braces. Let's join forces to sonically bridge the gap between Dexy's Midnight Runners, The Specials and the Skatalites"? None of the sound guys I had met before would have responded adequately to this kind of introduction.
Before Retro Culture
After all we lived in the small-town Germany of the mid-80s. Retro culture had not reached these shores yet. The sound technicians at the gigs we had played before used cassettes of either "Owner Of A Lonely Heart" or "Slave To The Rhythm" as a reference to adjust their equipment. Basses had to be snarling, snare drums received a Grand Canyon of reverb by default. Even if we sensed it to be wrong, we neither had the vocabulary nor the authority to make a stand.
My First Guitar
I know now that my gear was totally unsuited for my purposes. I played an Aria Pro II, my first electric guitar, pure rock, which I had obtained before knowing I would join a Ska band. It was 100% sustain and 0% attack. Which means, you could easily play chords that went on for minutes, but you were unable to produce any percussive Chaka, which is the central job of a Ska guitar.
Where We Came From
No wonder that these details had not come to my awareness before. My bandmates and I had spent most of our previous band life at a rehearsal room in bassplayer Lars' basement. To be exact: at bassplayer Lars' parents' basement. An under-dimensioned hifi system served as the amplifier to our bargain vocal mics. At every meeting the singers, bass and guitar went into a war with the drums and the brass for audability. A war that everyone lost.
No Tubes
Distortion was everywhere. And the distortion I talk about is not the warm compression caused by skilled overdrive of tube amplifiers. Our distortion had more in common with the effect you get when you turn up the volume of your bath radio real high and tune to an A.M. station. Only much louder.
Large Membranes
Now being in a recording booth my experience was the complete opposite. Someone had given me headphones. A Large-Membrane-Microphone was put in front me and perfectly reproduced every detail of my imperfect singing. And more. I heard myself breathing, my heart beating, and even rubbing my sweaty hands on my trousers led to considerable eruptions in my ears. I was so shocked that I couldn't be moved to sing but whispered my songs.
The Results
So you think we surrendered and burned the tapes right after hearing the final mixes? Glad we didn't! It turned out that Pete actually did a decent job with us. And check this (it's hard for me to take): No musical work I did ever since received as much attention as the songs from 1987. I say that with the uneasiness of a musician that has been active for more than 25 years.
Around The World
The songs from our first recording session have moved people (sprinkled) all over the globe. From Australia to Argentina: Young, (probably) good-looking people invited our music into their lives. They danced and sang, they fell into and out of love to what we had produced in our cold sweat. We know that because we received letters. Handwritten!
These Were The Songs
The five recorded songs served as our demo tape and were later used on three different publications in the coming years. Here is the list:
1. "Skank – Licensed To Ska" (Compilation), Skank Records/Link Records, England ("Julie, Julie, The Letter")
2. "Prime Cut" (First The Braces album), Unicorn Records, England
("No Reason", "The Girls Of Today", "Julie, Julie", "The Letter")
3. "Ska, Ska … Skandal" (Compilation), Pork Pie/Vielklang, Germany, ("Playing Darts") I would recommend you to buy all of them, if I didn't know that they're all out of print.
In Ska Studio – The Braces first demo (1986) by joe.scholes
The Lesson
One lesson to learn here is that there are more important things than a cool guitar and a trained voice. In our case it all came down to being at the right place at the right time. Nearly no one was making Ska music in 1987, yet there was lots of demand for it. I'm not saying that we weren't brilliant. It's just that it seems way harder today to get recognized in the global Ska scene, if you want to call it so. I could just shut up and be thankful, but listening to the original version of "Julie, Julie" I still wish I had owned a Telecaster then.